KME aerials are designed to provide firefighters with efficient and reliable tools for combating fires from above. KME's aerials come in various configurations, tailored to meet the specific needs of each agency.
These aerials are built with durability, maneuverability, and advanced features in mind, ensuring that firefighters can reach and navigate challenging areas with ease. KME brand aerials are trusted for their robust construction, innovative technology, and have the broadest lineup of aerials among apparatus manufacturers.
TRACTOR-DRAWN AERIAL FEATURES
MAXIMUM FLEXIBILITY
Ensure peace of mind arriving first on scene with a KME tractor-drawn aerial. The full quint rating will give your fire fighting fleet maximum flexibility.
Need to assist with fire suppression? An optional fire pump and tank can be added. All KME tractor-drawn aerials are available with the highest and widest handrails and an unrestricted 500 lb rated tip load.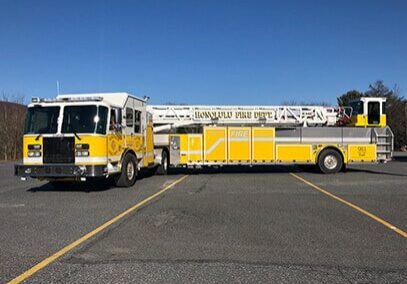 VISIBILITY
Since the KME aerial tractor-drawn fire truck is designed with maneuverability in mind, its tiller cab reflects its goal to provide unrestricted visibility and access – even when positioned in difficult locations! KME's "No-Post Vision" windshield eliminates the A pillar obstruction for improved visibility to the front and side of the cab.
Tiller cab doors are also available, with either the standard hinged type door or rear sliding style.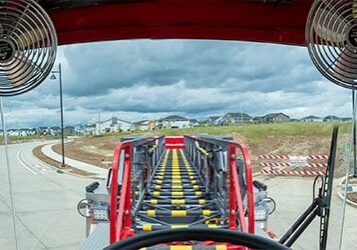 CUSTOM BODY STORAGE
In addition to its superior maneuverability, visibility, and functionality, KME tractor drawn aerials provide plenty of storage space with a body design aimed at providing maximum compartment volume in the industry.
KME's standard body design features up to 500 cubic feet of compartmental storage, all while providing flexible storage options for bulky items, such as long ground ladders and heavy supply hose. This extra space will help you function as a true ladder company.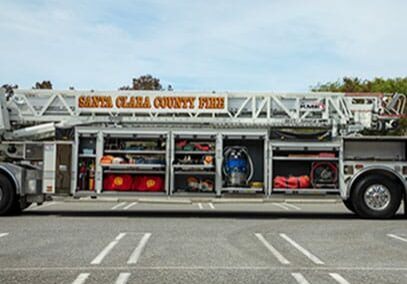 BIG PERFORMANCE
KME's AerialCat™ rear-mount platform fire trucks offer benefits beyond how high its ladder can reach. It boasts a steel ladder with a lift geometry that allows it to rotate an unobstructed 248 degrees at 10 degrees below horizon without any impact of its platform flow capabilities. This same below-horizon functionality allows the platform to rest on the ground with its ladder fully retracted at only 33' from the base of the apparatus.
Fully extended, KME's rear-mount platform can situate its platform a total of 14' below grade at 10 degrees below horizon! The KME aerial rear-mount platform exclusively features a "fail-safe" turntable retention system consisting of a 1¼" bolt that minimizes any stress associated with platform operation in low-level conditions.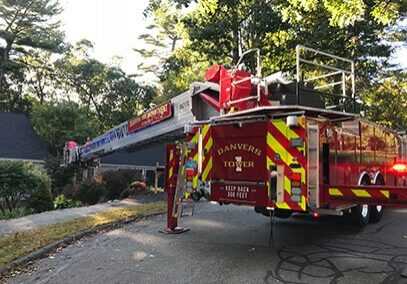 GREATER EQUIPMENT STORAGE
KME understands that storage is important to those working in the high-risk field of emergency response. Whether the AerialCat™ rear-mount platform unit is used as a first-due quint or as a true truck, its unique storage configurations are designed for optimal efficiency. KME's line of rear-mount platform fire apparatus body configurations provide over 240 cubic feet of storage space, including storage for up to 1,000' of large-diameter hose, as well as an easy-access strait-shot hose bed.
Every inch of the AerialCat™ body is occupied by full-height and full-depth storage compartments, designed for the storage of industry tools and equipment. Even while considering its space allowance for an NFPA 1901 or ISO ground ladder, the AerialCat™ provides storage compartments with depths up to 26" – perfect for bulky supplies and equipment.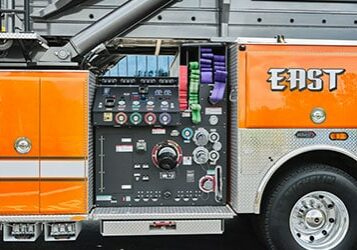 Flow Rates of over 3,000 GPM at the Platform
The KME AerialCat™ rear-mount platform fire truck is excellent for both industrial and high-capacity municipal operations. It has one of the highest flow rates of over 3,000 GPM from the platform at full extension and elevation, all while maintaining a 250 pound platform weight capacity! Coupled with its amazing power, the AerialCat™ rear-mount platform utilizes the industry-standard KME ladder and an increased waterway with state-of-the-art dual monitors. This unit is entirely self-operational, only requiring a dependable water supply to fuel its powerful flow.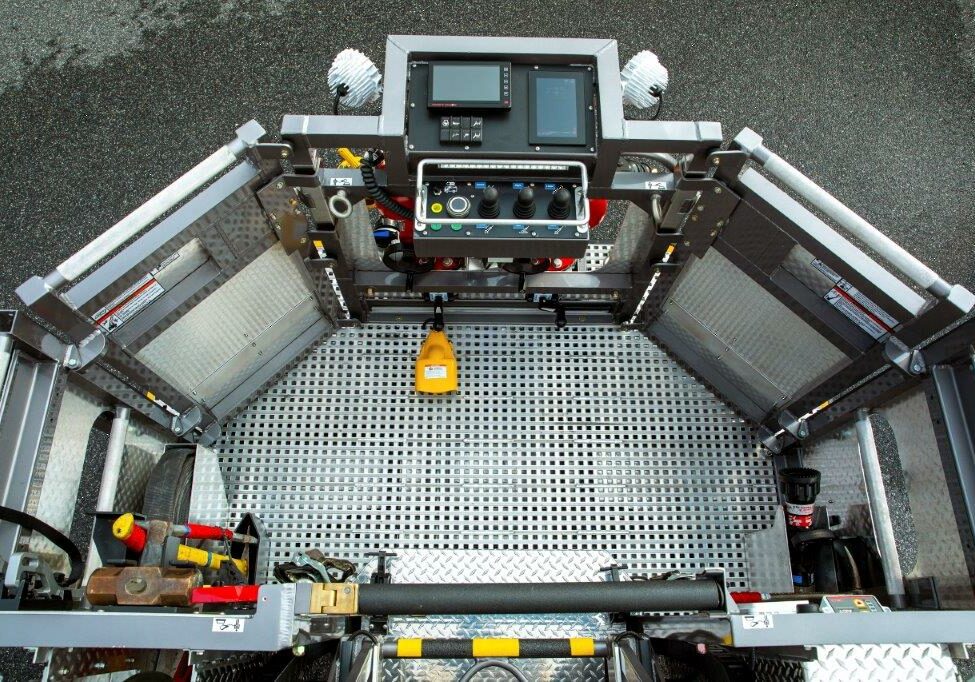 PRO SERIES AERIAL
The KME Aerial PRO Series Fire Truck is a multi-purpose response vehicle that addresses the evolving needs of today's fire departments. Designed to keep your team well equipped, the PRO Series focuses on maximizing storage space. With efficiency being an important factor, the PRO Series's pump controls are placed in an ergonomic location. This Aerial Fire Truck also has a vertical swing and push-pull handles to reduce complexity, increase reliability, optimize operator pump training time, and overall easier to use.
MINIMIZED PUMP SPACE
The PRO design eliminates the need to build the body around the pump.
OPERATOR ERGONOMICS
With vertical swing and push-pull handles to reduce complexity, increase reliability, optimize operator pump training time and overall easier to use.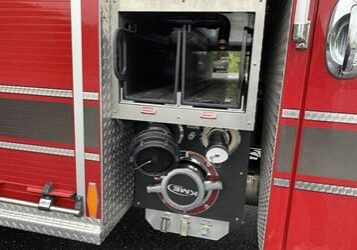 BETTER PERFORMANCE
Your department wants the flexibility to get the water where it is needed in the event of a fire. KME's Storefront Blitz™ feature allows for a first-floor interior attack. It offers extended monitor travel up to 30 degrees above horizontal.
The aerial is also capable of going 8 degrees below horizontal. It is this special attention to the height and width of the ladder section dimensions that makes a rear mount ladder aerial fire truck from KME the perfect fit for your department.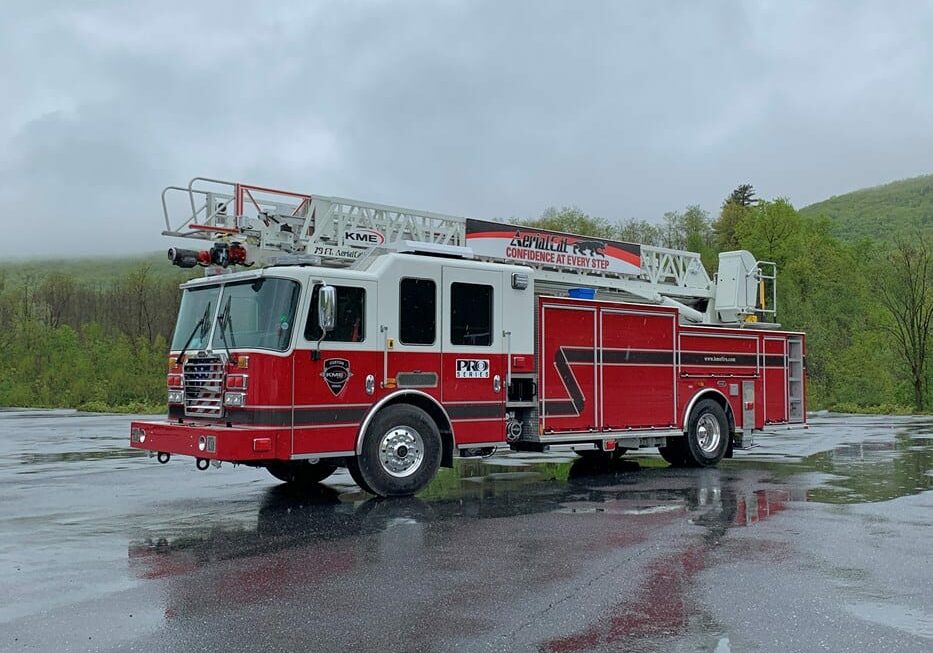 SAFETY IN CLIMBING
Every rear mount aerial fire truck from KME is designed with safety in mind. The ladders are engineered to provide a clear walkway with no need to worry about excessive cables or wiring installed in the climbing path. The new standard rung covers feature an aggressive gripping surface for your hands and feet, for enhancing stability during inclement weather conditions.
Each rung also features photo luminescent bands that light the climbing path in poor visibility situations. The luminescent portions of the rung covers glow for up to 20 hours after initially exposed to light. For additional illumination requests, KME also offers full length LED Lumabar Pathfinder™ walkway illumination lights.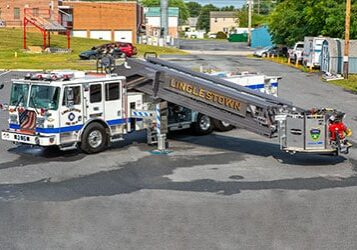 FIRESTIX
Looking to get the best of a pumper and ladder truck in one? The KME Firestix™ is the answer. This versatile fire apparatus offers minimum setup time to maximize your firefighting response. Rated as either a pumper or aerial, the KME Firestix™ can be built on a commercial or custom pumper chassis with a 500 lb tip load ladder.
Seeking to build the best fire apparatus in the market, KME manufactures the entire Firestix™ apparatus in-house; each unit is then tested and certified through Underwriter Laboratories (UL®). The rescue ladder is made with high strength steel which is Type I tested and certified with the boom section. The extension and waterway are fully enclosed inside the boom sections for added protection, and an integral hydraulic reservoir in the torque box allows for maximum hosebed storage capacity.
variety of configurations
The KME Firestix™ aerial is a flexible model that can be used as either a pumper or an aerial fire apparatus. It can also be mounted on a commercial or a custom chassis, providing the ultimate in customizable options.
Tuck Away Monitor
In addition to its superior ladder function, the KME Firestix™ aerial houses an electronically controlled tuck-away monitor that aids in the safety monitoring of the fire apparatus and ladder egress, all while providing state-of-the-art flexibility and control.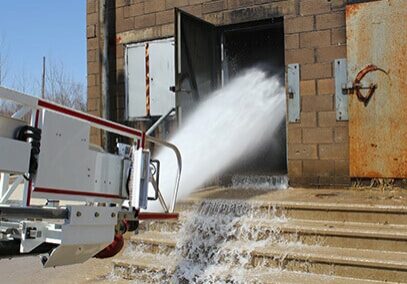 folding handrails
The KME Firestix™ aerial maximizes every inch of its compact design with folding handrails on its high- strength steel, extendible rescue ladder, which boasts a minimum width of 18 inches between the handrails and extends a minimum of 12 inches above the rungs.
Each section of the KME rescue ladder seamlessly collapses in on itself to provide maximum compression when withdrawn, while folding steps near the tip of the fly section offer further reach when fully extended.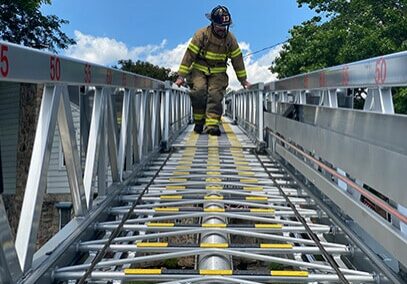 Tuff Truck
With a cab and body width as narrow as 96" and a wheelbase as short as 198", the KME Tuff Truck™ fire
apparatus is built to navigate around tight city streets, taking maximum drivability to a new level. The
two sets of H style stabilizers have been engineered to only fully extend to 12', allowing for positioning
and unrivaled performance on an 11-degree slope. The Tuff Truck also integrates mitered corners, which
causes the rear tail swing to be reduced by 9" and diminishes the possibility of damage to the rear body.
Add on its increased water capacity of up to 650 gallons of water and 240 cubic feet of body capacity,
and you have one enhanced firefighting truck!
Benefits
The benefits of the new Tuff Truck AerialCat™ Fire Truck include
Better Weight Capacity: Designed to accommodate a 650-gallon water tank and an enclosed ladder storage capable of housing an ISO compliant package. The tandem axle design provides better braking, traction and vehicle stability.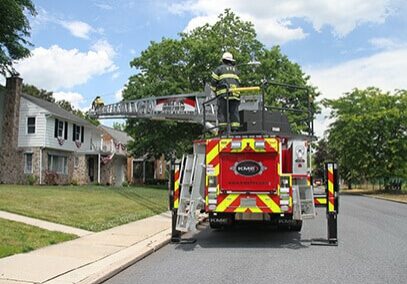 Unmatched Length: The shortest overall length in the industry at 38' 4". More Compartment Space to Utilize: 25" deep compartments allow 185 cubic feet of compartment space.
A Compact Design: Easy to maneuver with a wheelbase as short as 198" and short outrigger stance of 12' with the capability to short jack at 10'6".
No Restrictions: Operate in a full range of motion with no restrictions. The truck will operate at any low angle forward of the outriggers and can be set-up on an 11-degree slope.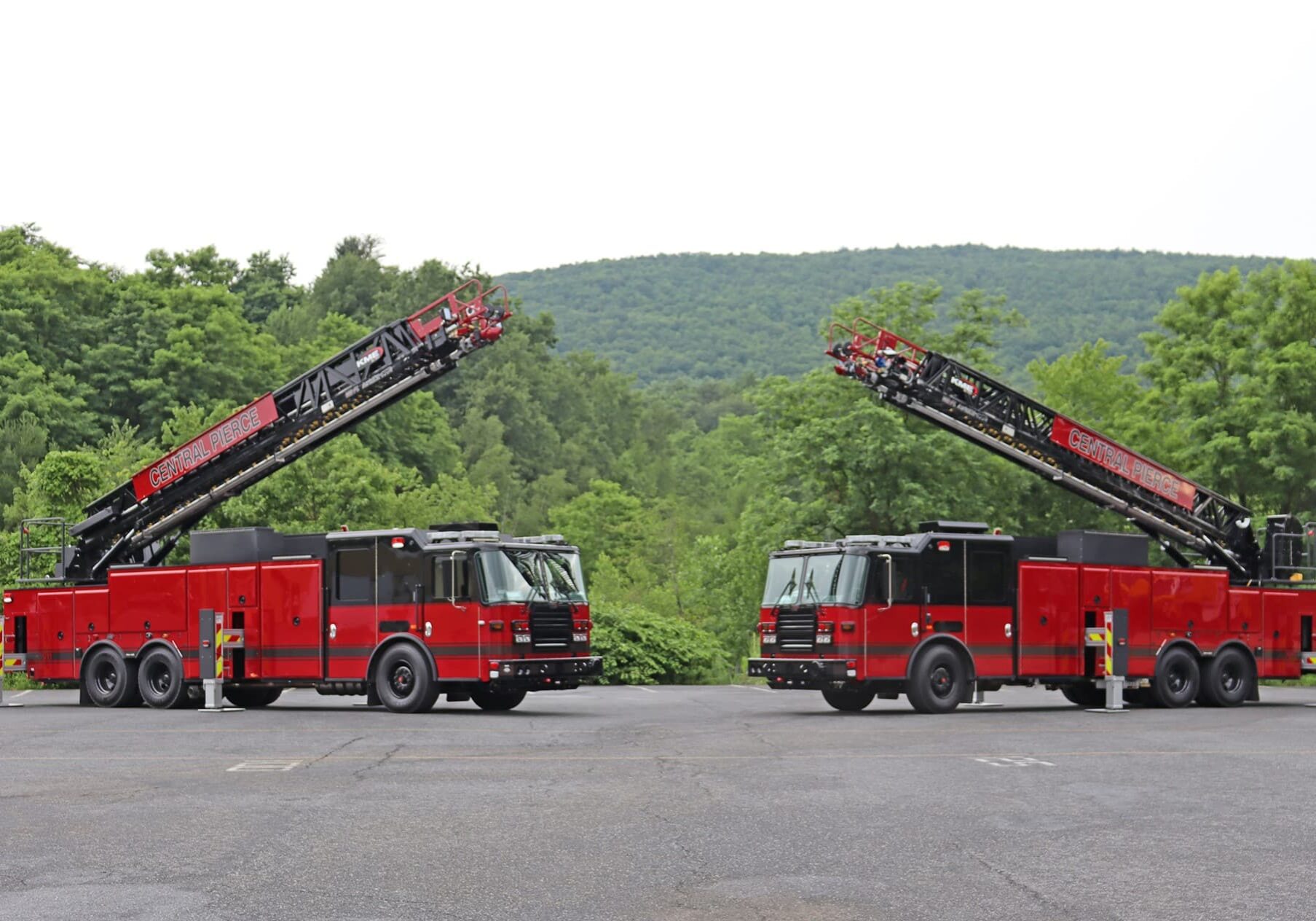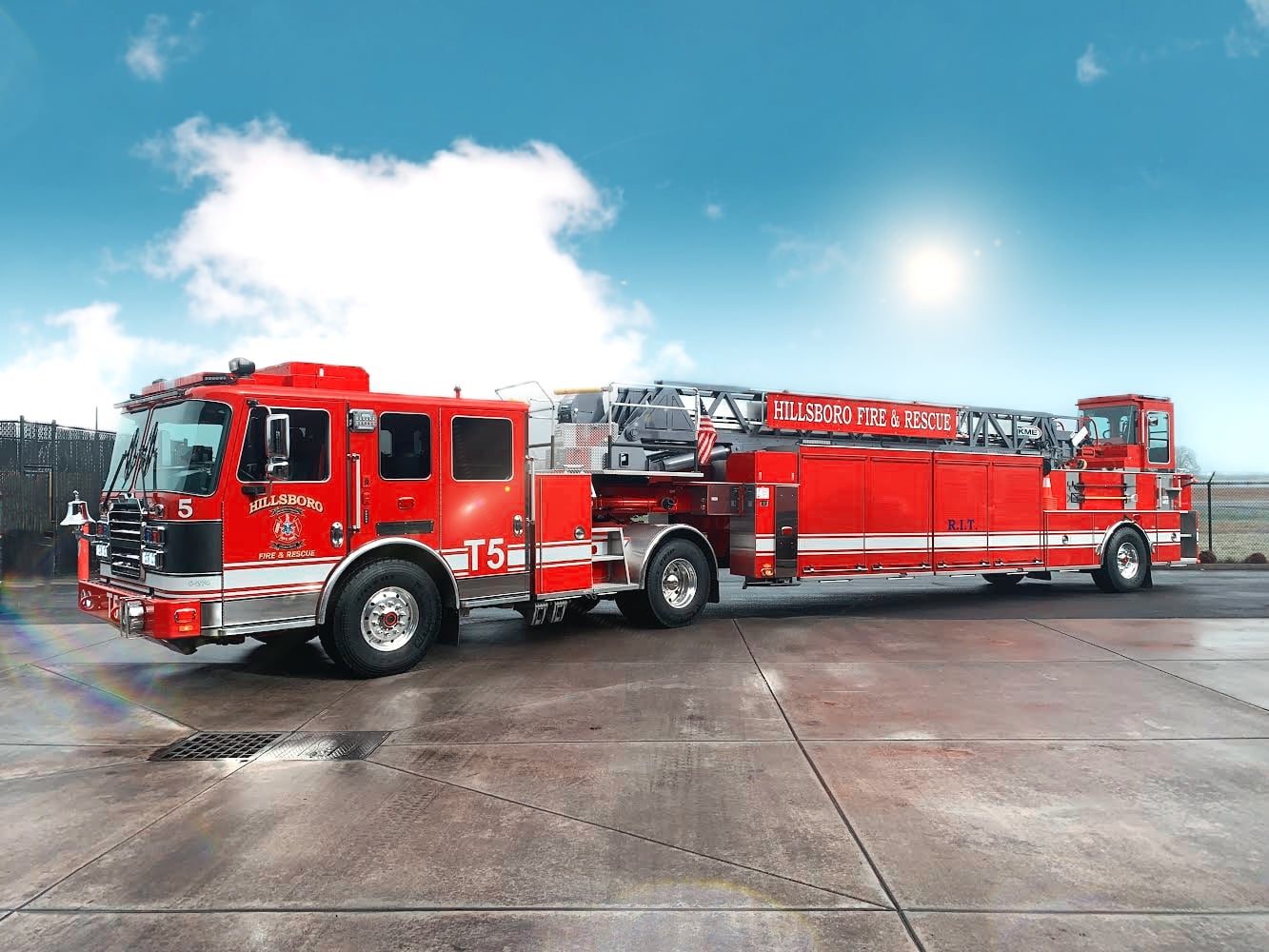 HILLSBORO FIRE & RESCUE (OR)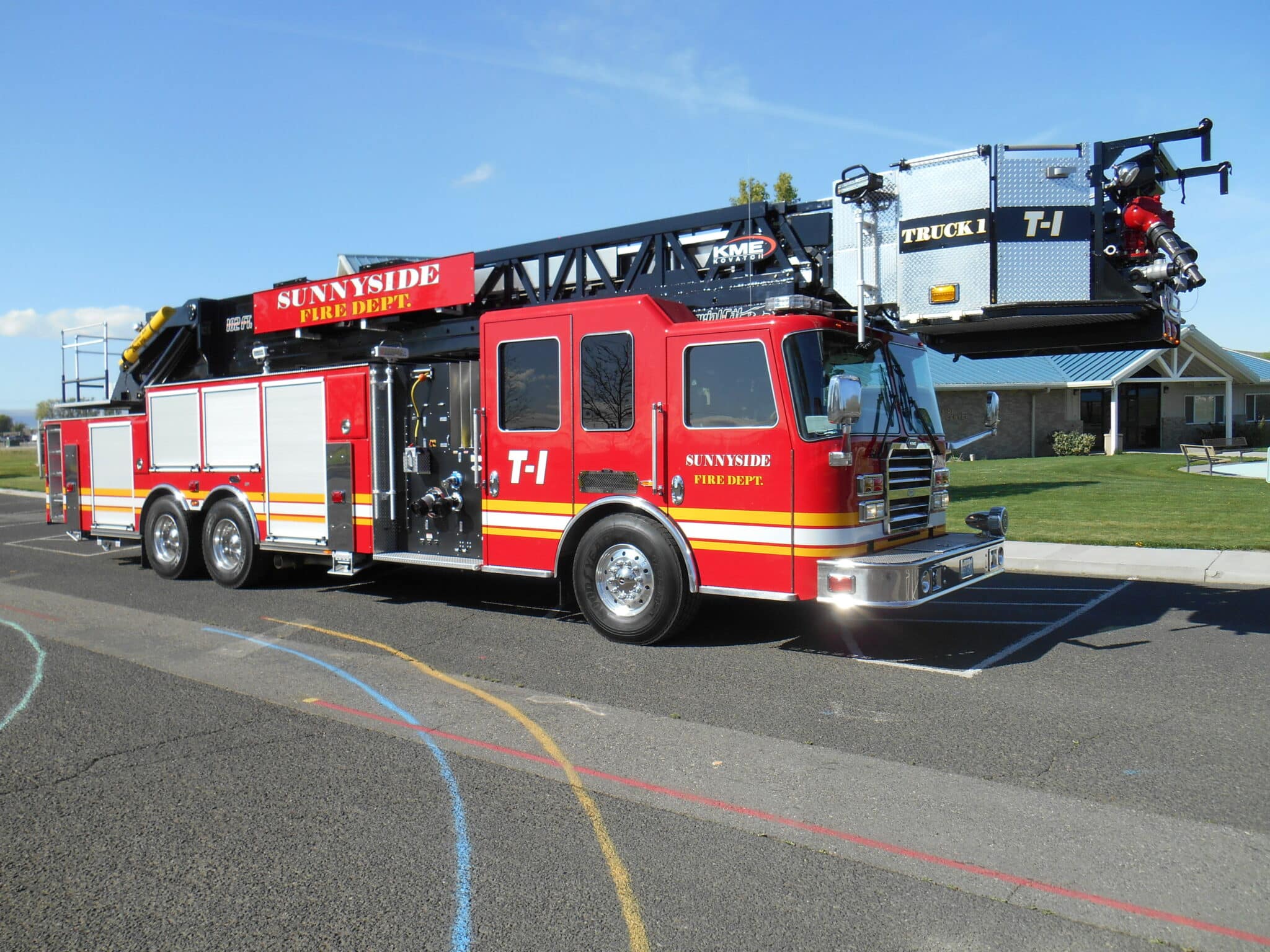 SUNNYSIDE FIRE DEPT
KME Platform
Sunnyside, WA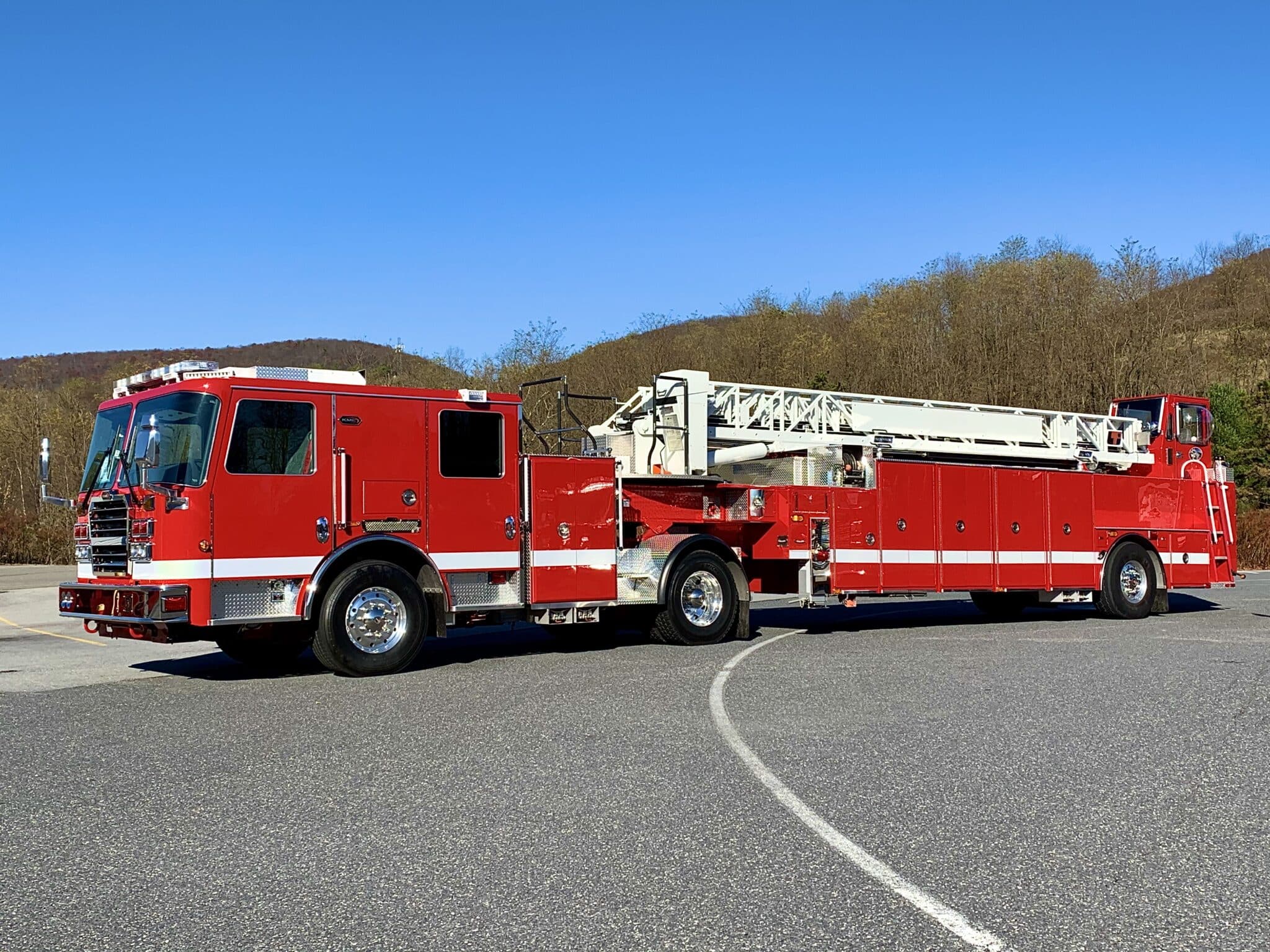 VANCOUVER FIRE DEPARTMENT