REVOLUTIONARY BODY DESIGN AND CONSTRUCTION
KME designs and manufactures thousands of innovative pumper body configurations in a variety of materials to satisfy the needs of your environment as well as your budget. Learn more about all of our different types of pumpers: Challenger Pumpers, Pro Series Pumpers and Custom Pumpers
CHALLENGER PUMPER
INNOVATIVE DESIGN WITH FULL PUMPER AND HEAVY RESCUE FEATURES
The Challenger™ Pumper combines all of the features of a custom built pumper with cost savings to meet the needs of budget minded departments. The KME Challenger™ offers a wide range of body and tank styles, custom or commercial chassis types, and a diverse option selection to meet your specifications and budget.
Bodies for Every Need
KME Challenger bodies are available in a 94" wide hose bed configuration. All Challenger body designs maximize storage capabilities with slide in suction hose and ladder storage.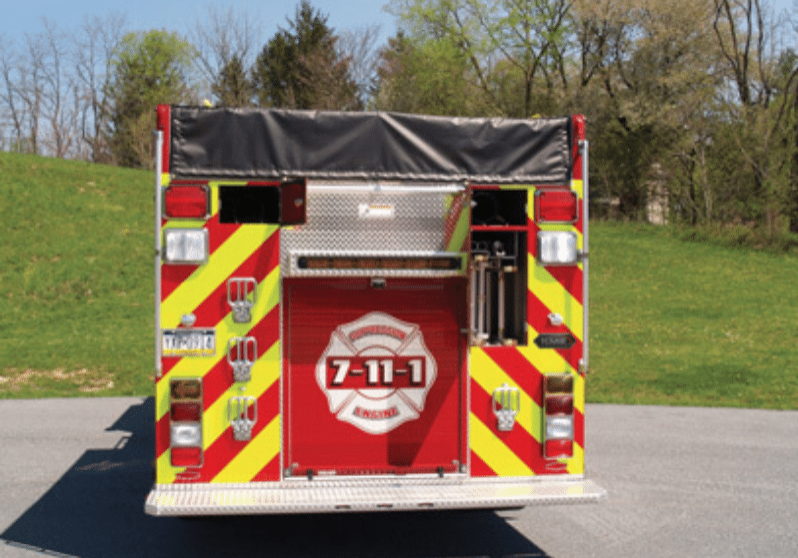 COMMON SENSE PLUMBING
Pump panels are designed to be simple to operate with controls located in convenient positions. Crosslays on the Challenger come in standard low, easy-to-load position, at an industry leading height of 64" from the ground.
Commercial PUMPER
Manufactured by the same skilled technicians and engineers who design E-ONE mainline products, E-ONE commercial pumpers offer the perfect combination of quality, performance and flexibility to meet your department's operational and budgetary needs.
Commercial pumpers are fully engineered for prompt delivery, easy service and reduced cost over the life of your department's apparatus.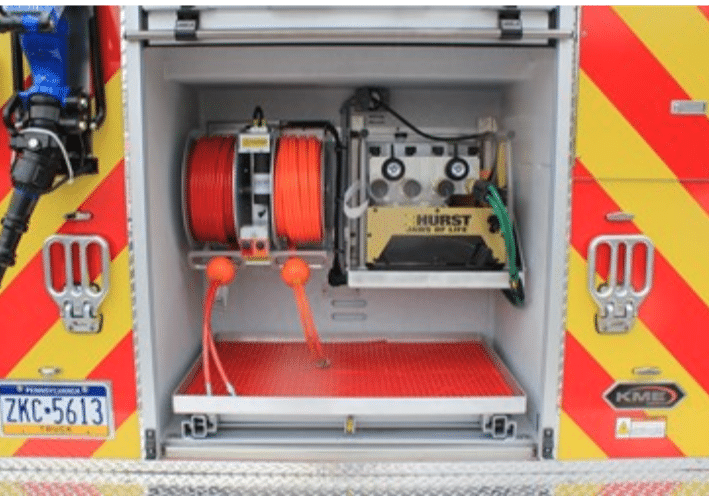 PRO SERIES PUMPER
PERFORMANCE OF A PUMPER. CARRYING CAPABILITY OF A RESCUE.
The PRO® is a multi-purpose response vehicle which addresses the ever changing needs of today's fire service, with an increased focus on maximizing storage space. The pumphouse is minimized to consume less space, while the pump controls are placed in an ergonomic location for simplified operations. The PRO® is available in a traditional sidemount configuration, or in an elevated sidemount configuration which places the operator up out of the street for a safer operation with improved visibility.
OPERATOR ERGONOMICS
KME has engineered an ergonomically manual control panel that features vertical swing and push-pull handles that reduces complexity, increases reliability, and optimizes operator pump training time. The PRO® pump configuration increases operator efficiency and safety.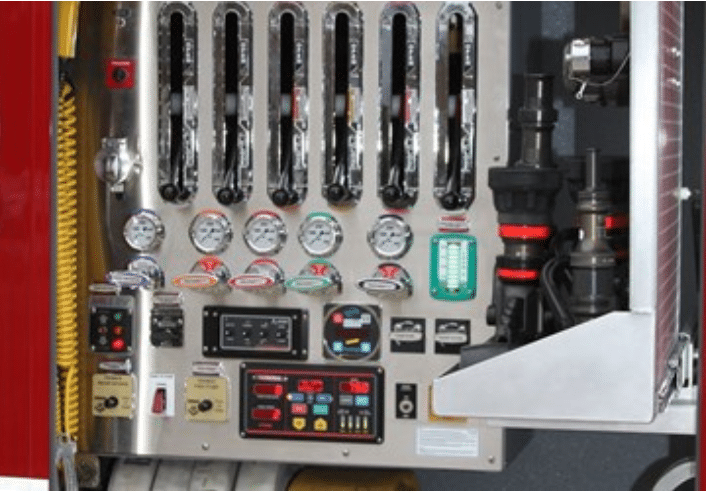 MORE EQUIPMENT STORAGE
PRO® bodies are available with up to 550 cubic feet of enclosed storage space, allowing you to store the full complement of equipment for a custom pumper and heavy rescue on this single apparatus.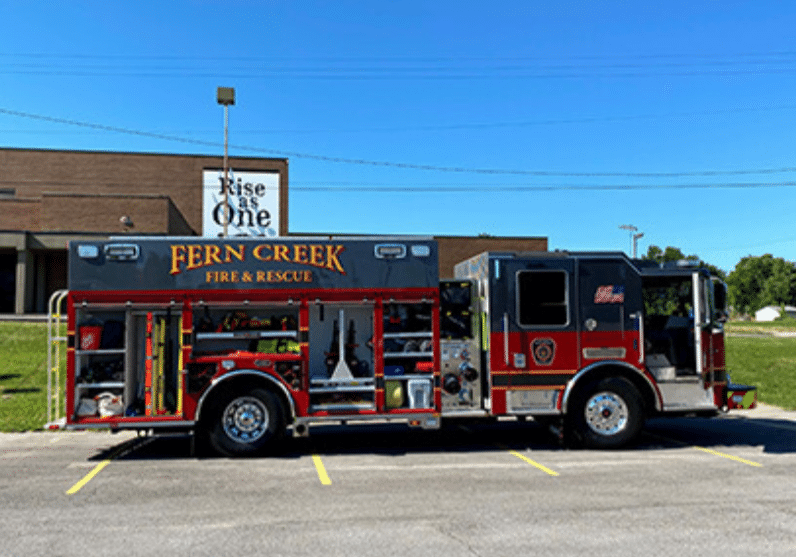 SERVICEABILITY
KME provided increased access to the pump and plumbing from both sides of the apparatus making it easier to service the unit without tilting the cab.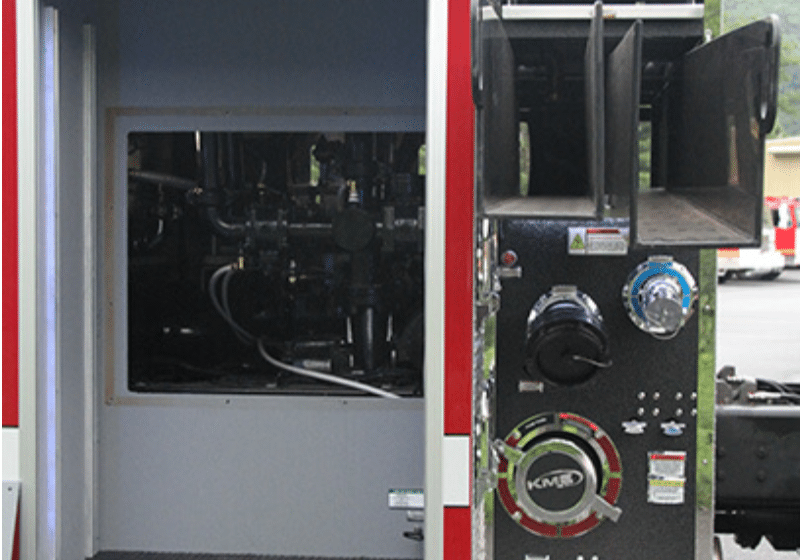 CUSTOM PUMPER
YOUR NEEDS ARE CENTRAL TO OUR DESIGN.
The KME Pumper product has continued to be a leader in the fire industry as the premier "Custom" fire pumper product. Whether you're part of one of the largest city fire departments in the country or you're a small, rural fire company, KME will create a unit to meet all of your specific function and design requirements.
EASY PUMP OPERATIONS
The Pumper Body line offers a variety of pumping configurations, including midship pumps, PTO pumps, CAFS systems, injection foam systems, and bypass foam systems. Each pump panel is custom designed and constructed to provide an optimized panel that reduces the wheelbase while keeping the controls ergonomic and organized.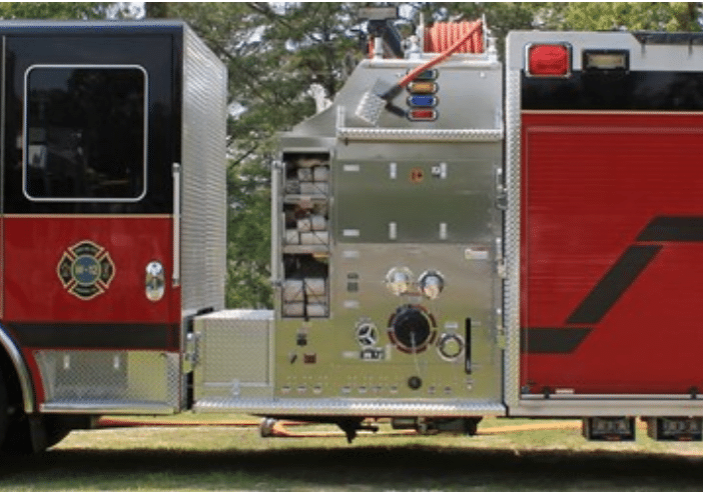 FLEXIBLE HOSE STORAGE
For departments who desire an ultra low hosebed configuration KME offers a solution with the primary hosebed located 43″ from the ground. If height isn't a concern, but volume is, the wide option will suffice featuring over 105 cubic feet of storage capacity. Customized storage is also available for items like stokes baskets, backboards, and little giant ladders. Whatever the need, the KME Pumper body has a solution.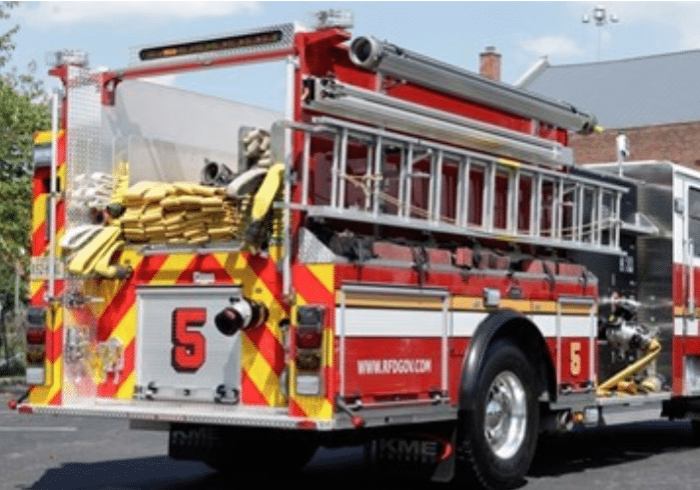 A more intelligent design
With fabricated bodies constructed of galvanealed steel, aluminum or stainless steel, KME Pumpers provide additional compartment space to customize equipment mounting to your specific needs. The bodies have plenty of equipment storage capacity with front transverse compartments and optional body roof compartments. KME rear mounts bring both pumper and rescue equipment as well as operator safety to every scene.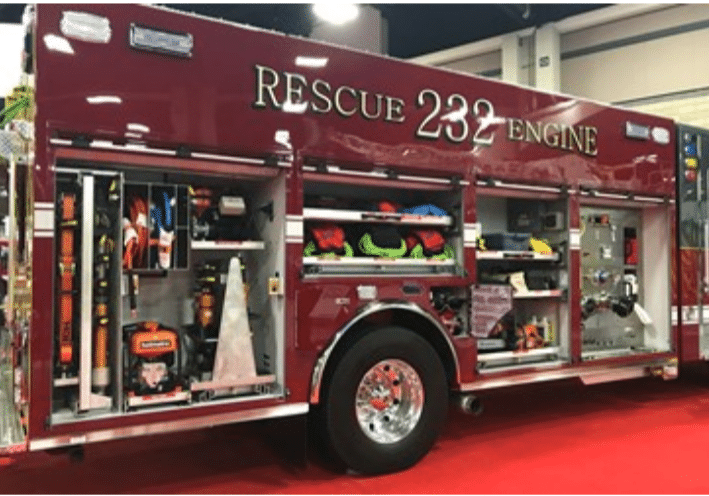 Rearmount pumper
Fire departments nationwide are called upon to respond with more equipment than ever before, KME's rear mount pumpers with unrivaled compartmentation capacity and packaged in a maneuverable short wheelbase is the answer. Bodies are available in aluminum or stainless steel with a wide range or pump, tank, hosebed, and storage options on either a custom or commercial chassis. Rear mount pump panels are available on either side or in a true rear configuration.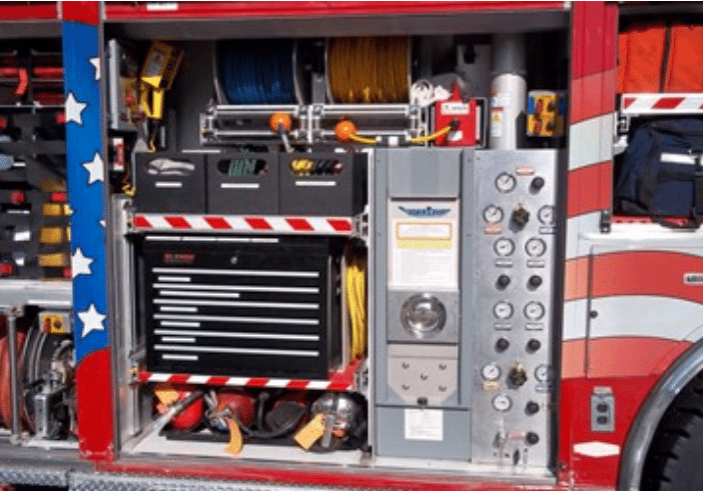 variety of panel options
Three pump panel positions (driver's side, officer's side, and true rear mount) allow departments to put operators out of harm's way and increase vision at the scene. With rear-mounted pumps, the pressurized intakes and discharges can be removed from the operators' area creating an area that is free of hazards.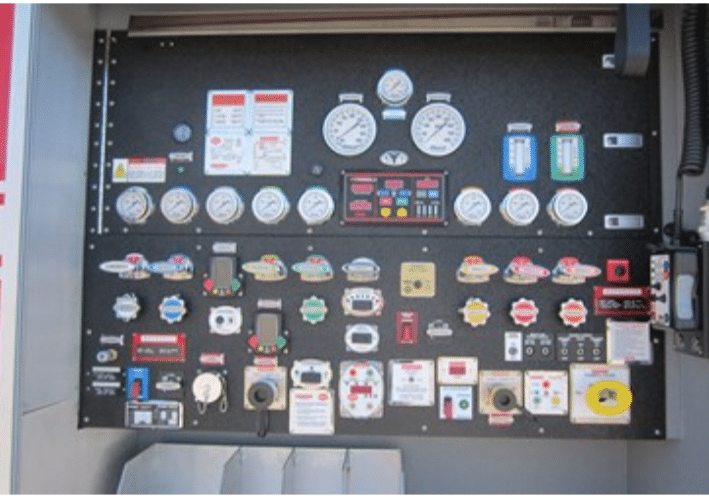 preconnected hose lines
Utilizing KME's custom plumbing – pre-connected attack hose lines can be set-up for deployment off a side (front, sides, and rear) of the apparatus.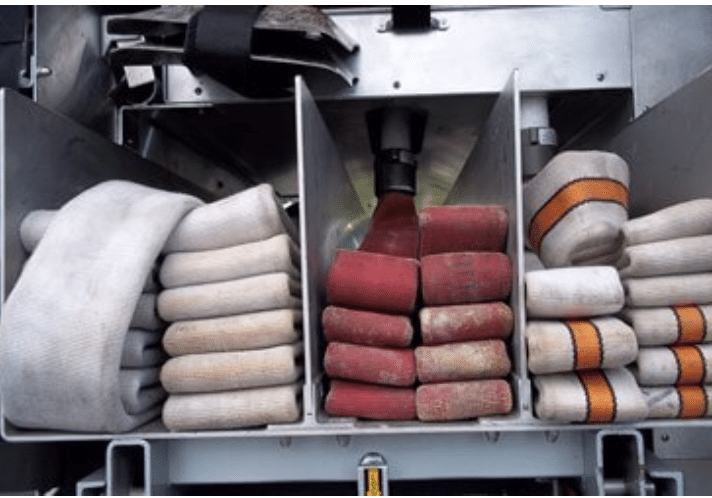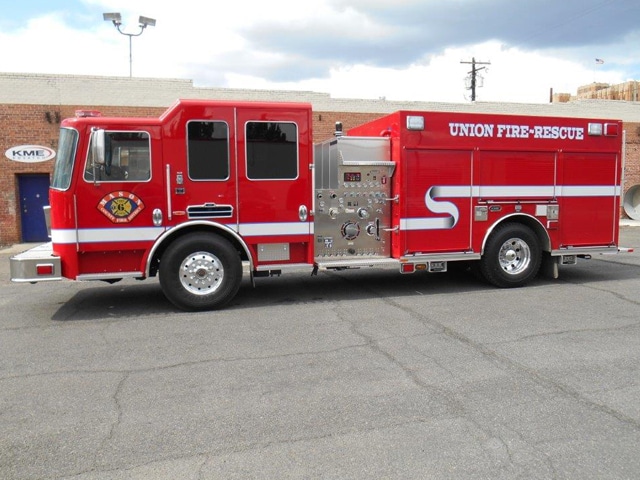 MASON COUNTY FIRE DISTRICT #6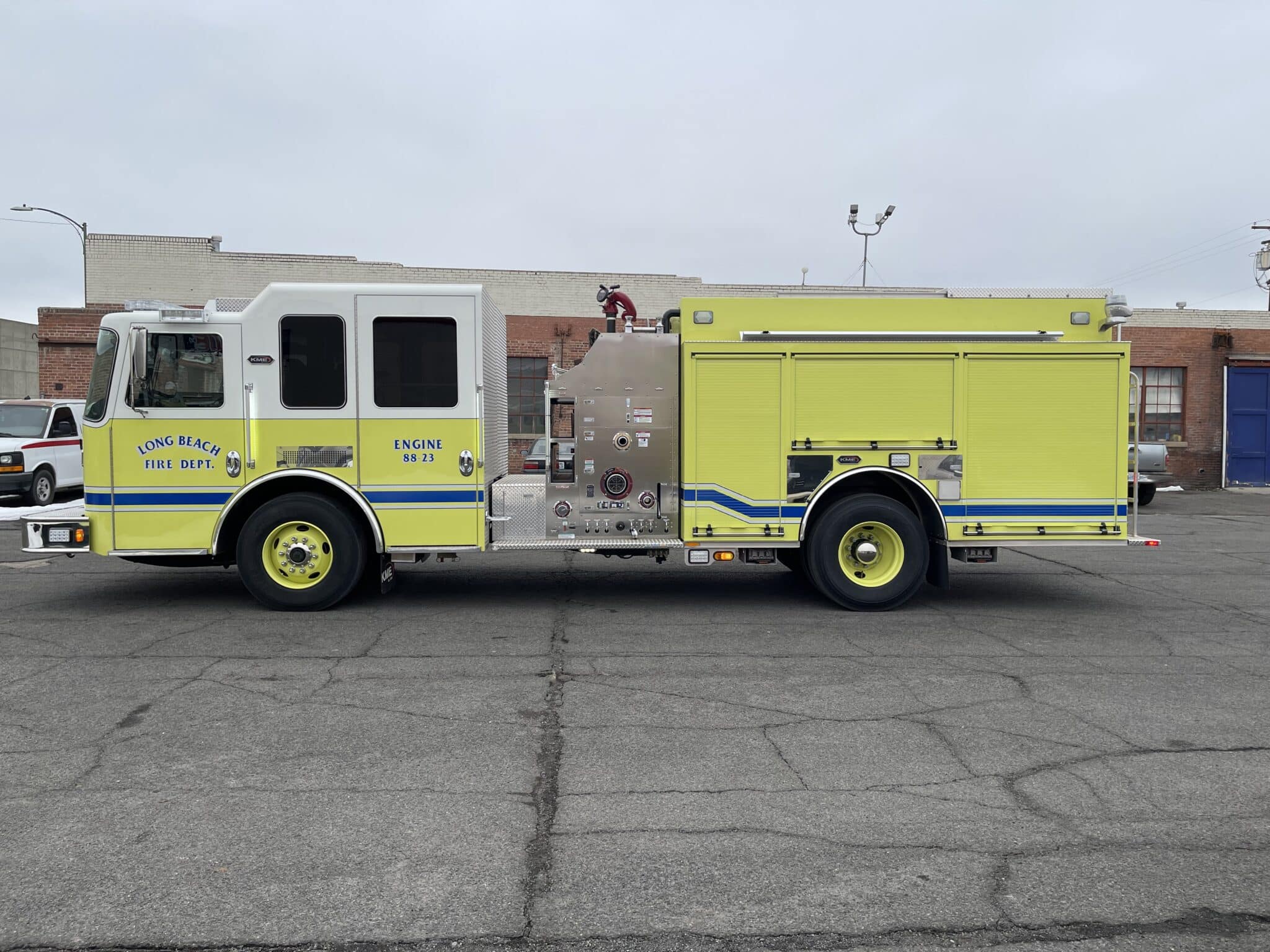 LONG BEACH FIRE DEPARTMENT
KME Pumper
Long Beach, WA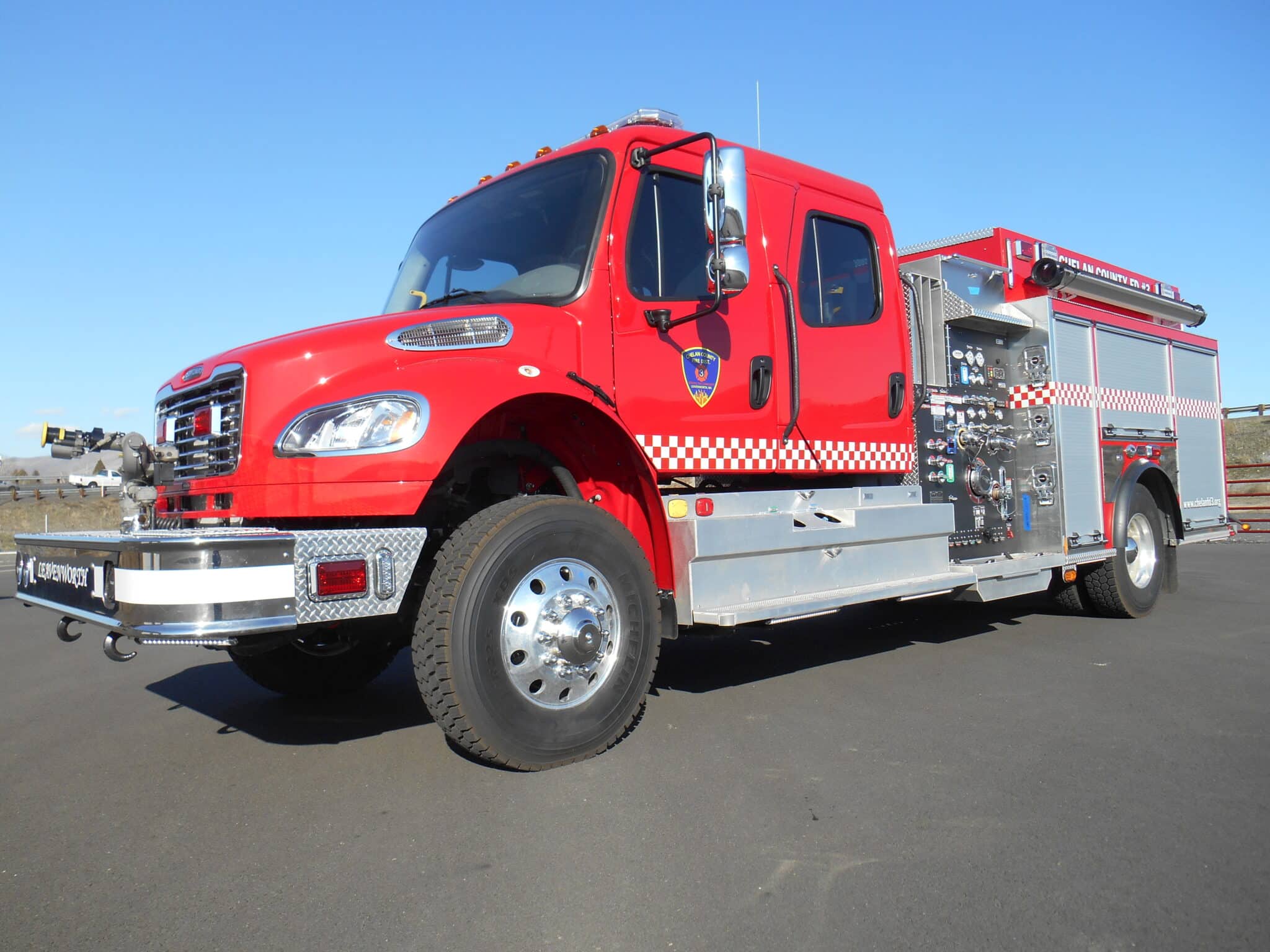 CHELAN COUNTY FIRE DISTRICT #3
KME Pumper
Leavenworth, WA