The KME Tanker/Water Tender line of apparatus offers design configurations to fit each customer's specific needs ranging from the very simple water hauler with no pumper, to the full featured pumper-tanker with a full array of options.
All KME tankers are built from the same base foundation with safety standard on all designs. Body configurations are available in Galvenneal steel, aluminum, 3CR12 stainless, and 304L stainless steel.
flexibility
Some departments need the full features and benefits of a front line pumper, along with the large water supply of a tanker. The KME Dry side tanker combines both of these demands on a single unit, while maintaining the high level of safety that you expect. The Dry Side tanker is available on any of KME's custom chassis lines, or any commercial chassis available for the fire market.
tank capacitY
KME Custom engineers each water tank to fit into the body of the tightest possible space. This customization eliminates wasted space while providing a safer apparatus with a lower center of gravity. Single axle Dry Side tankers are available with up to 2000 gallons of water, while tandem axle units can carry up to 4000 gallons of water.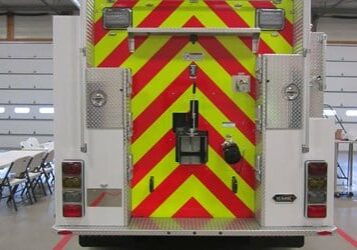 body configurations
The KME Dry Side tanker is customizable with hundreds of configurations to meet your departments specific needs. Dump valves are available in round or square style, located at the rear and/or on the side of the apparatus. Side positions can be customized to the area forward of the rear axle(s), rearward of the rear axle(s), or between the tandem axles.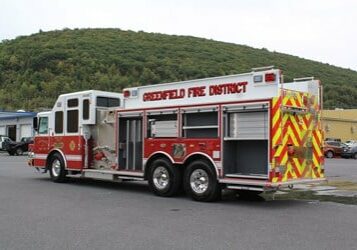 DESIGNED TO MEET YOUR OPERATIONAL NEEDS.
The Eliminator Tanker sets the standard for efficient water tankers in the safest configurations available today. The unique water tank design optimizes the weight distribution of the apparatus while providing a low center of gravity, low travel height and reduced overall length.
Every Eliminator Tanker is custom designed to your department's specific needs to combine tank capacities up to 4,000 gallons with pumping systems to provide a Tanker Pumper combination unit to fulfill your requirements. With an ergonomic pump operator's panel design and the ability to incorporate the maximum amount of equipment storage on either custom or commercial chassis, the Eliminator Tanker is the only choice for a combination Tanker Pumper unit.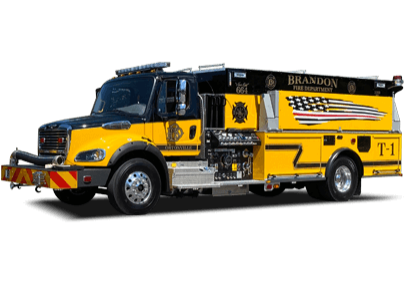 SAFEST WATER DELIVERY IN THE INDUSTRY
The Eliminator™ tanker is custom designed to lower the water tank center of gravity and distribute the water between the front and rear axles for a better handling – this also reduces the cost of ownership.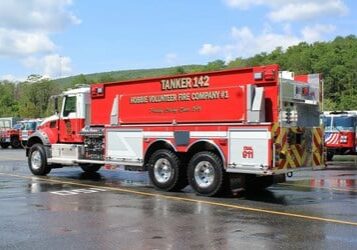 large water supply without the sacrifice
The Eliminator™ body provides a large water storage capacity without sacrificing compartment space. Hundreds of compartment configurations are available ranging from simple low side compartments to full height/split depth compartments for pumper/tanker configurations.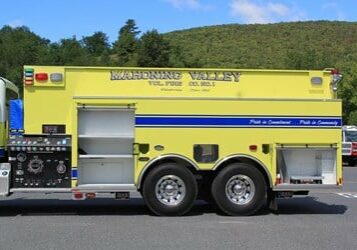 organized pump design
The Eliminator™ pump panel features an angled gauge panel for an improved view of the control from the standard operating position, while still keeping the pump panel width as tight as possible. Packaged with a 1500 gpm rated pump performance and lowered single stack crosslays.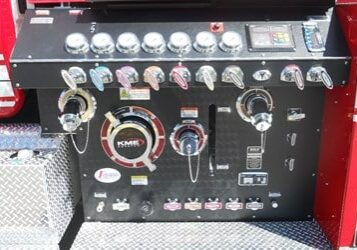 valuE and performance
The KME Elliptical Tanker is equipped with short wheelbases and a low center of gravity to provide a safe and functional apparatus design. Starting with the economical LE tanker, or the sensible LX tanker, through any custom designed Elliptical Tanker, KME considers proper weight distribution, center of gravity and chassis components to ensure the safest, most reliable tanker product available today.
Every Elliptical Tanker is custom designed to your department's specific demands to combine tank capacities up to 4,000 gallons. Large pumping systems provide a Tanker Pumper combination unit to fulfill your department's requirements or economical pump packages for water shuttle designs. The KME Elliptical Tanker is available on most commercial chassis or any KME Custom Chassis product.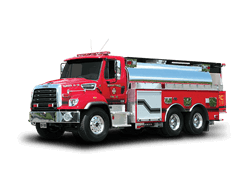 safety standard
Because keeping firefighters safe is our top priority, all tanks and apparatus are designed to exceed NFPA 1901 requirments. Our elliptical tanks utilize baffle designs that help ensure safe operations while driving the apparatus full, partial or empty of water. Tanks are also designed to provide rapid filling and dumping of water.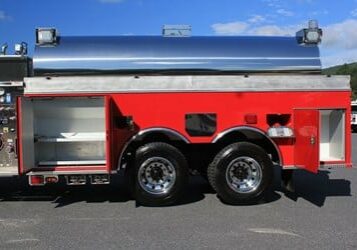 wide range of options
A wide range of pumps are available from 250gpm to 4000gpm, in traditional mid-ship locations, or packaged inside the front body compartment to reduce length and wheelbase. Dump valves are available in the rear, as well as on each side of the apparatus in customizable locations forward to the axle(s), or between the tandem axles.
KME Elliptical tankers can be built on a custom chassis or any commercial chassis available in the fire market. The tankers can be customized with storage in the fender, racks/enclosures for portable water tanks, storage for suction hoses, plus many more.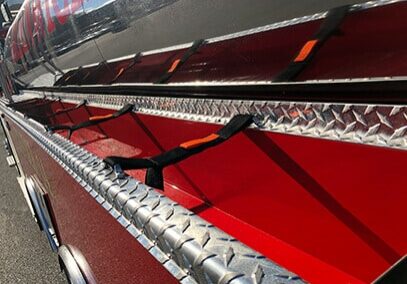 tenders CONFIGURED TO YOUR DEPARTMENTS DEMANDS.
Wet Side Tankers range from 1,000 to 4,000 gallon capacity, offering a low center of gravity and short wheel base. While the tank acts as the upper body, the lower fire body compartmentation is solidly constructed from the customers choice of Galvanneal steel, aluminum, 3CR12 Stainless, or 304L Stainless Steel. Wet Tankers offer ample storage with compartments available forward and rearward of the axles, or between the tandem axles. Tankers carry a wide variety of accessories, and the wet side tanker is equipped to accommodate all of those accessories with customized storage for each device.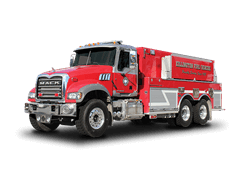 TANK CONFIGURATIONS
Wet Side tanks are available in raw poly form or with a professional paint finish.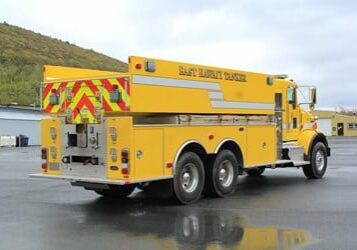 accessory options
Tankers carry a variety of accessories, including folding dock strainers, ect. Wet Side series tankers offer customized storage through tanks, enclosed storage on compartment caps, and powered racks to lower accessories to an easily accessible height. If you have a unique storage need on your tanker the Wet Side tanker can offer several solutions.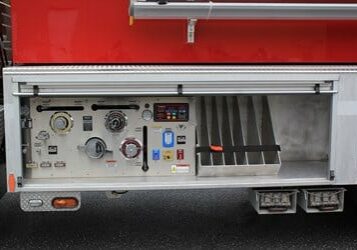 dump locations
KME offers dumps in the positions where they are most functional for your operation, including forward of the rear axle, between the tandem axles, and aft of the rear axle. Dumps can be controlled from the safest position, inside the cab, or from the rear of the apparatus where the operator has a full view of the operation.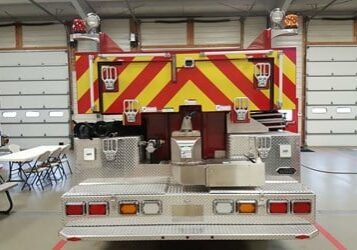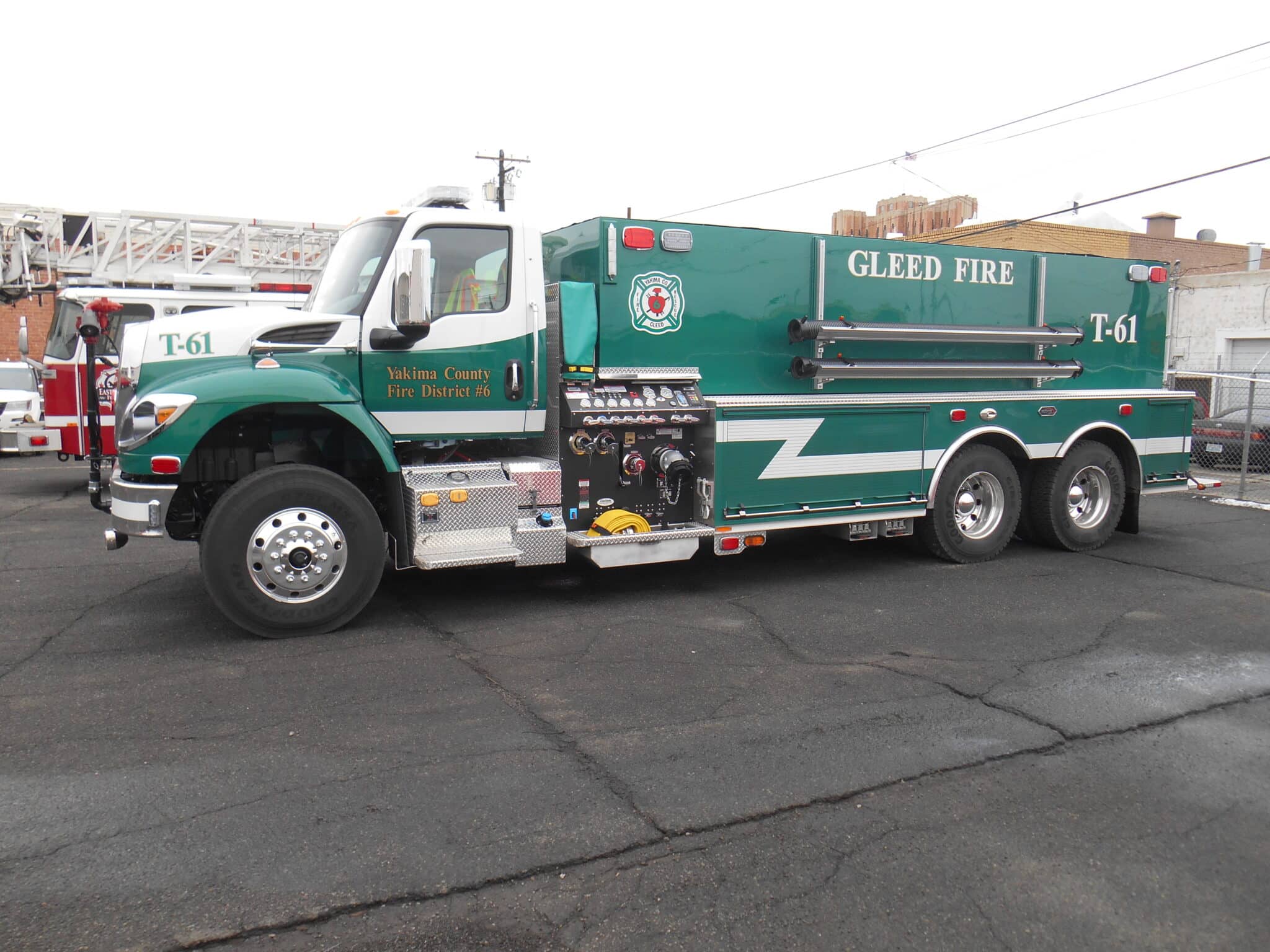 YAKIMA COUNTY FIRE DISTRICT #6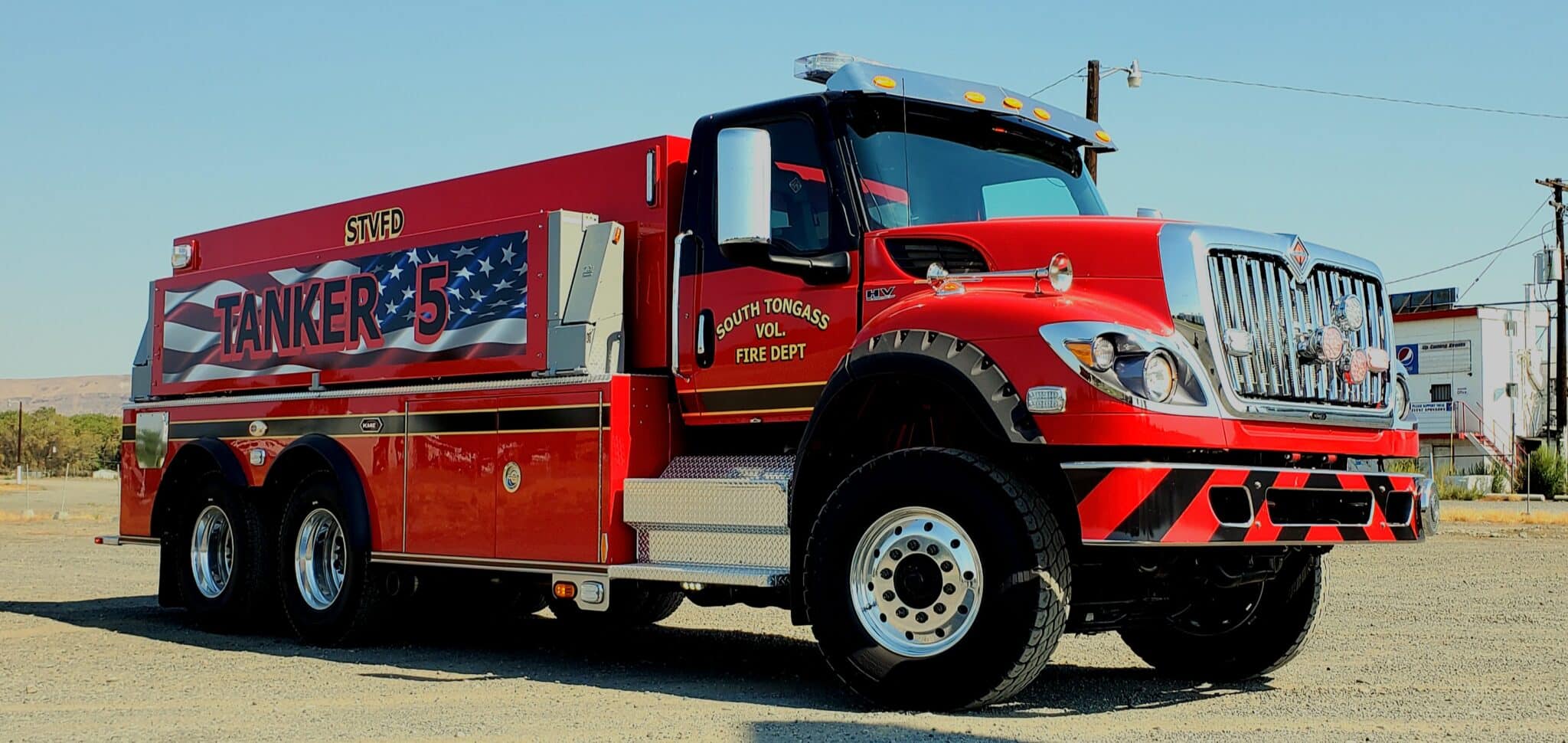 SOUTH TONGASS VOL. FIRE DEPARTMENT (AK)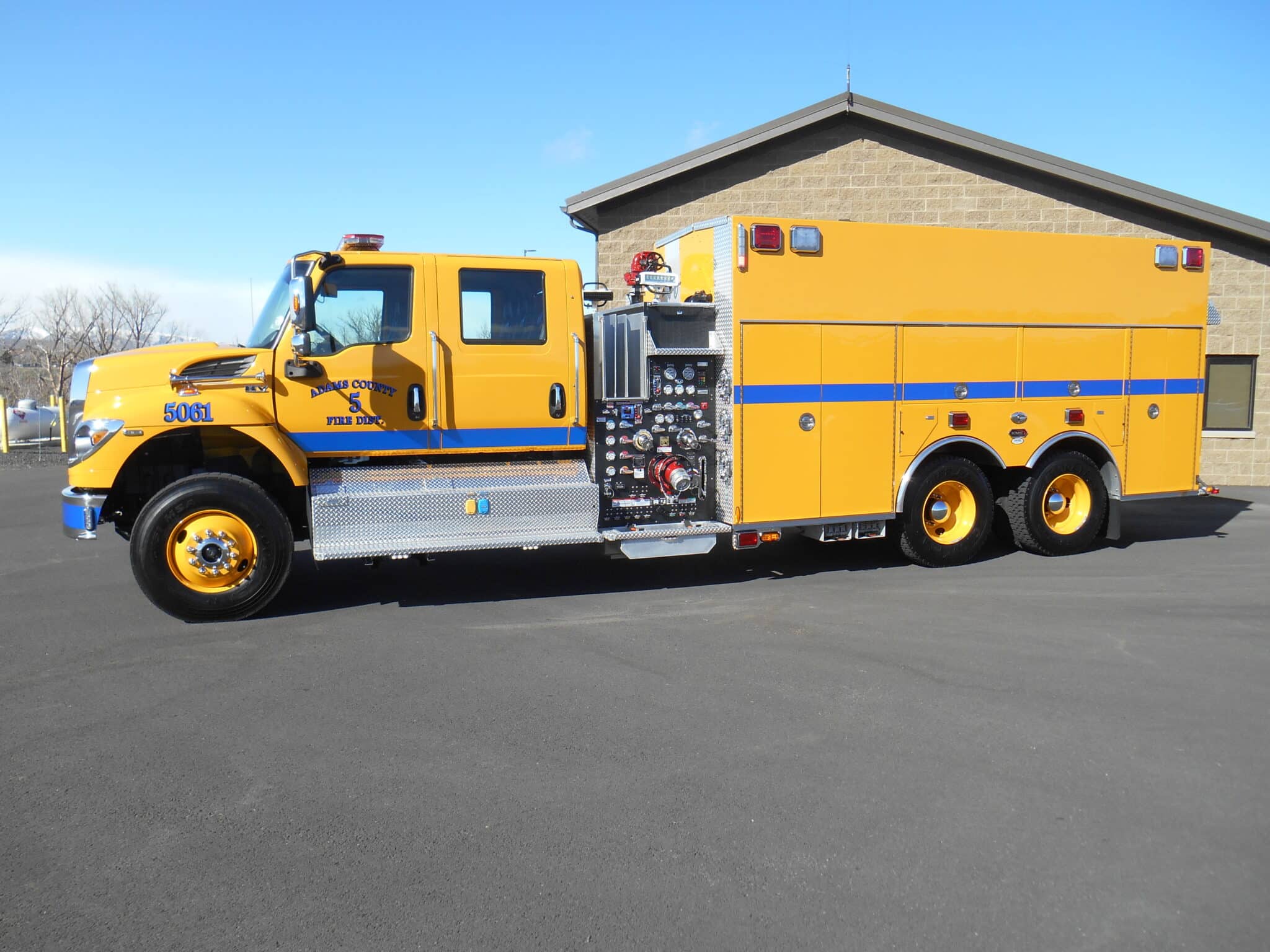 ADAMS COUNTY FIRE DISTRICT #5
KME Pumper-Tender
Othello, WA